South Portland Antiques is conveniently located in Downtown Brooklyn on the corner of Fulton St. & S. Portland and can be reach by train or bus. At South Portland Antiques, you can touch the items you are interested in, and examine up close. We invite you to come in, browse, meet and talk one-on-one with our staff. Our professional staff is happy to discuss the quality, background, and condition of each piece.
Click here to enlarge map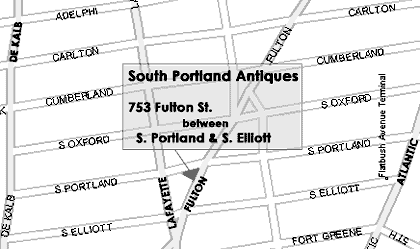 Click here to enlarge map
Click here for an even bigger Map.
By Train:
The C train to Lafayette Av.
The G train to Fulton St.
By Bus:
The B25 to S. Elliot
The B26 to S. Elliot
The B38 to Lafayette
The B52 to S. Elliot

You can collect your property in person, or have South Portland Antiques assist you with shipping arrangements.